Performance is an Attitude
Powered By Audi Sport
40 years ago, Audi Sport began with quattro at the forefront. Audi race cars became legendary for superior handling, traction, and control in any road condition. With a passion for motorsport, Audi Sport engineers continued to enhance quattro technology. testing the limits in racing formats: rally, Le Mans, Formula E, and customer racing. Since 1973, Audi Niagara in St. Catharines has proudly showcased Audi Sport models.
Audi Sport Models
Every Audi Sport model that Audi Niagara carries has a long-standing heritage. Visit our showroom in St. Catharines, Ontario, to see what makes an Audi an Audi Sport model—from performance to design to technology—or browse our inventory online:
RS 3 Sedan
RS 6 Avant
TT RS
RS 5 Coupé
RS 7 Sportback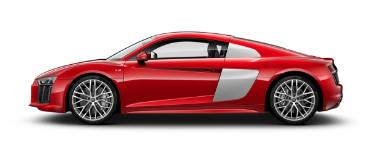 R8 Coupé
RS 5 Sportback
RS Q8
R8 Spyder
Get in the action
Reserve your seat behind the wheel of an Audi Sport model at Audi Niagara or speak with our Audi Sport Specialist, Mr. Nelson Mason, if you don't see a model of interest in our inventory.